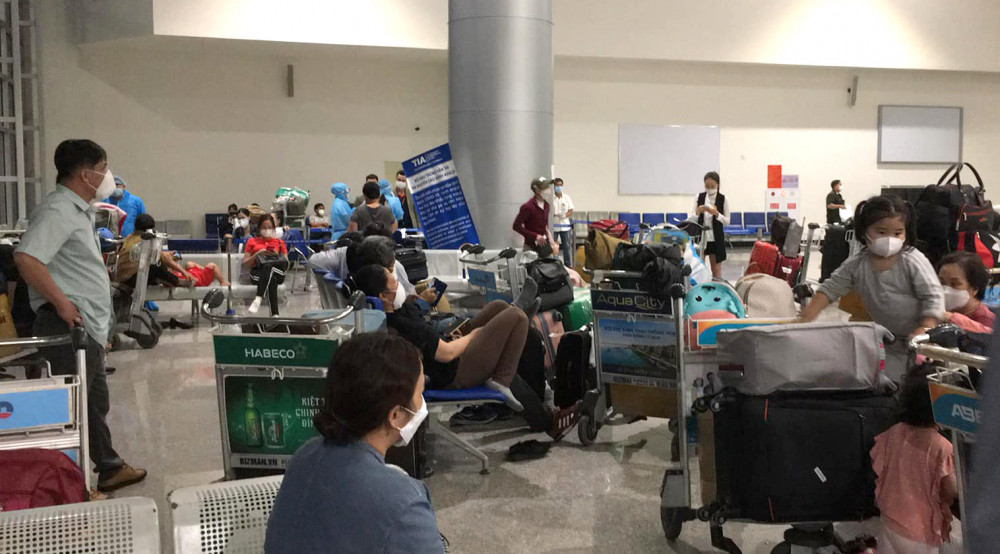 Hundreds of passengers from Korea to Vietnam are frustrated when they received the notice of changing the cost of hotel isolation from VND1.3 million/day to VND5 million/day.
Accordingly, Vietjet's international commercial flight for Incheon-Tan Son Nhat numbered VJ963 carrying 158 Vietnamese passengers arrived at Tan Son Nhat airport at 12.30 am on September 30.
However, after more than 10 hours of landing at Tan Son Nhat airport, the passengers still had to wait at the airport, due to conflicts over hotel isolation. Accordingly, many people said that when booking a ticket, the agency announced that they will be placed in an isolation center, but when they arrived at the airport, they were forced to sign a written consent to stay at the hotel for isolation at a price beyond their ability to pay.
On Facebook of a person named Le Hung (Le Hung), a 35-minute livestream shows more than hundred of customers, including elderly and children, were waiting while many others argued with Vietjet staff. This video attracted nearly 8 thousand likes and 21 thousand shares.
The video also shows an old man who is said to ly on the floor because of waiting so long.
Answering BBC News in Vietnamese on the morning of October 1, Ms. Ho Thi Loan, a passenger on this flight said:
"We waited up to 10 hours and they have not yet resolved the issue of quarantine. At first, they said the price was VND1.3 million/4 people/day. When we worked with the hotel, it was VND1.3 million/1 person/1 day. After that the price increased to VND1.7 million/day, then to VND2 million/day and finally to VND5 million/day," Ms. Loan said.
What do flight customers say?
After Vietnam reopened routes with some countries including South Korea, Vietjet airline officially announced to restore the round-trip route connecting Vietnam and Korea.
Accordingly, from September 30, Vietjet will start operating Ho Chi Minh City to Seoul (Incheon) with a frequency of 1 departure every Wednesday.
Ms. Ho Thi Loan said that when she got information that the airline opened to sell afternoon tickets to Vietnam, she registered to buy tickets through an airline ticket agent for about VND8 million/ticket.
Ms. Loan said that when she went to the airport, she and many other passengers were required to sign the record with the medical declaration. The record is an agreement on the flight such as hotel quarantine, transportation, testing and other related costs:
"When buying tickets, I asked about the quarantine, the agent announced that it would be quarantined in the military zone about VND120,000/day. However, when checking in at Incheon airport, all passengers were forced to sign on the minutes with content the quarantine will be in a hotel at the price of about $100/person/night and should not have any complaints. If we do not agree to sign, they would not allow getting on the plane, and our tickets would become useless."
"We complained about why we had to sign because before, we were told to be placed in an isolation center, now we have to sign the agreement to stay in the hotel," Loan said.
Ms. Loan also explained that, because the staff of the check-in is Korean, the language difference prevented them from explaining. Therefore, she must sign it and plan to settle it after she comes back to Vietnam.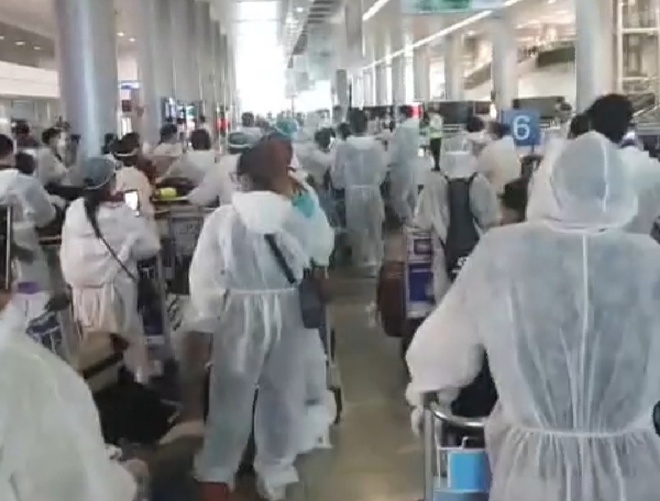 When returning to Vietnam, many people do not accept the price above and complain.
Tuoi Tre reported that, upon landing, the airline staff reported that the isolation cost at the hotel was VND1.3 million/room/day (4 people/room). All passengers agree. Just a few minutes later, the passenger received a message that he could not find the hotel with the original price, so he moved to another hotel with a higher price, VND1.7 million/day, then the new price was announced as VND5 million/day.
Ms. Loan told the BBC:
"After arguing, someone from Vietjet said that the hotel price decreased to VND1.3 million/4 people/day. Many people also agreed to go, but when they arrived at the hotel, it changed to VND1.3 million/person/day. Those people did not agree. Then they lowered the price to VND1.7 million /person with the baby."
"Because there is no agreement, everyone had to stay at the airport, children cried, old people fainted. At the airport, there is no food, Vietjet does not provide any food or drink. Until 9 pm, I begged them to let family members buy ready-to-eat rice, until then they allowed it. When we asked them to settle then they offered one price and later increased it," Ms. Loan said.
"I feel cheated," she said.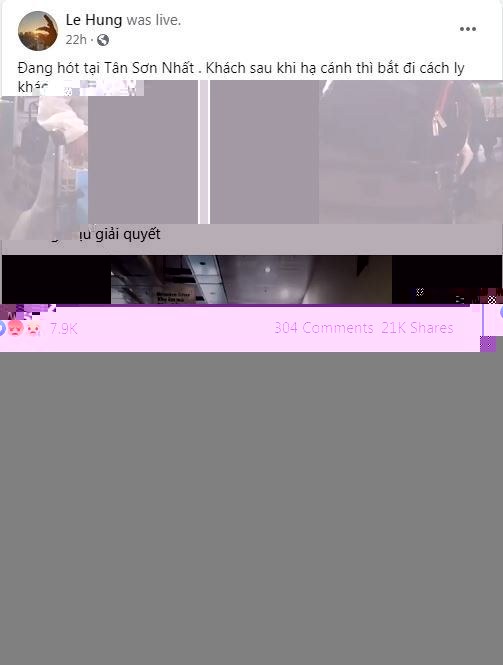 Livestream about the personal Facebook incident, Mr. Le Hung described:
"I Livestream for everyone to know, next trip to learn from experience, do not let people cheat you."
Mr. Le Hung explained: "Many people think that we are stingy for $100/day. Being stingy is also right because we are workers, sorry for the money we make, we have the right to choose to live or not. But because Viettjet, at first when selling tickets, said that there were two options, staying in a hotel or in an isolated area withing the military zone in Cu Chi district. However, when we arrived at Incheon Airport, Korea, before receiving tickets, we were forced to sign in agreement to stay in a hotel. We had to sign because if we refused, they would not give us our tickets."
"I planned to board the plane first, then return to Vietnam to complain. When I asked Vietjet staff that forced isolation at a hotel is the decision of which agency or department, they look away and did not answer," Mr. Hung reported.
In the document that Vietjet airline forced customers to sign before getting on the plane, there are clear regulations on epidemic prevention and initial notification of the estimated quarantine price of up to $100/person/night, with a quarantine period of 14 days.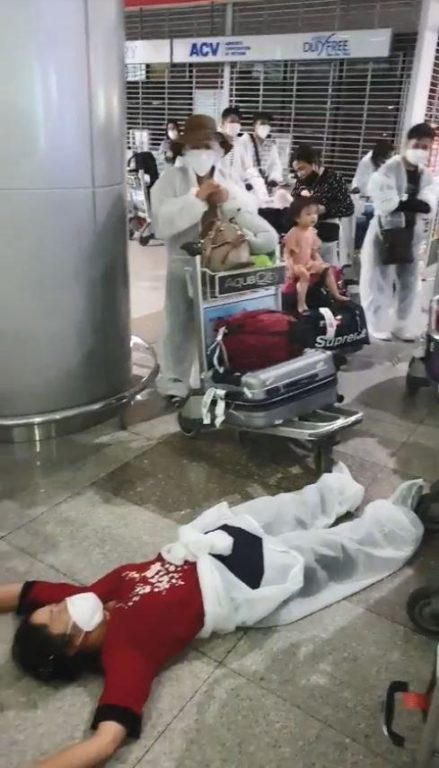 Mr. Hung also filmed a scene where some people had to eat uncooked nstant noodles because they were hungry, an old lady was said to fall down from waiting so long.
At the same time, Mr. Hung posed the problem of people who fainted: "Human life is important, it is necessary to quickly resolve to protect people from dying or being infected with Covid-19."
What do authorities and Vietjet say?
Vietjet informed to the press that it had mobilized the best support force for passengers to get back to the safe isolation area. The reason is that the price of hotel isolation cannot be agreed.
Speaking to the BBC, Vietjet's media representative said that he expected passengers to sympathize with troubles arising from this unintended situation.
Vietjet information has supported and coordinated with the Department of Aviation, Airport, Ho Chi Minh City Center for Disease Control, accommodation units, hotels to assist passengers in quarantine facilities in accordance with regulations.
Accordingly, from 5.45 pm on the same day, there were customers on the bus to the hotel and quarantine facilities. By 10 pm, all the remaining passengers and the flight crew were taken to other quarantine facilities, including Can Gio hospital.
Responding to Thanh Nien, a representative of the International Medical Quarantine Center (the Department of Health of Ho Chi Minh City) said, according to the Ministry of Health's official dispatch guiding the temporary supervision of people entering Vietnam before entering Vietnam, the on-entry person is required to register for a concentrated isolator for implementation of isolation upon entry, together with a specific work schedule in Vietnam.
The representative said that for this group of passengers coming from Korea, passengers buying flights to Vietnam were notified by the airline to register for quarantine facilities.
However, he also informed that the free centralized quarantine sites had no more space.
Before the above developments, the Center has actively contacted the concentrated isolation organizations to arrange accommodation for this group of guests. At 9pm yesterday, he said that the entire group of visitors was brought to isolation center at Covid-19 Can Gio Hospital – quarantine site free of charge.
Confirmed to the BBC, Ms. Ho Thi Loan said that the passengers of the flight were brought to the quarantine area in Can Gio on the evening of September 30.
"We have to wait until they made a decision about which isolation center then we can leave. It also takes about two more hours to reach the segregated concentration in a Can Gio hospital," said Loan.
A Facebook user named Hoang Hung commented: "If things are like the videos I shared, this is forcing people to go to hotels, and people don't know how much it will cost. It is true that it is an act of arresting people, which needs to be rectified immediately and not to be repeated on future flights."
"Not everyone going abroad is rich enough to be willing to spend tens of millions of VND for 14 days of isolation. Even if you are rich, the price must be clear and transparent," he said.
The representative of the International Medical Quarantine Center told the Thanh Nien newspaper: "This is the first time that a passenger has returned home to protest against paid isolation, even though it has been approved before. We will have a meeting to discuss the situation immediately. This situation should not be repeated. It is recommended to passengers on incoming flights that the free quarantine sites are not available."
Thoibao.de (Translated)
Source: https://www.bbc.com/vietnamese/vietnam-54335908