"In order to earn people's belief and agreement, leaders at all levels must be exemplary, work for their interests first."
That was the call of Mr. Nguyen Van Nen, secretary of the Ho Chi Minh City Party Committee when he attended a meeting to celebrate the 90th anniversary of the establishment of the National Union for the Unification of Vietnam – Day tradition of the Vietnam Fatherland Front (November 18, 1930-November 18, 2020).
A retired official in HCM City, Mr. Le Van Triet, former minister of Commerce, when speaking with Radio Free Asia on November 18, 2020, said:
"According to my comment, that sentence of Mr. Nen be true, if the people see the cadres honestly, the people will believe, the people see the exemplary cadres, the people will believe, that means Mr. Nen says right. And the second idea, from past to present, do people believe it or not? I think people do not trust, why? Because the state and party officials are not honest with the people, they say for the sake of the people, but for the sake of their own interests, or for the sake of their own sake, so if they direct like this, they will say this, if they are directed like that, they say that not tell the truth. So it is true that in order for the people to believe, the cadres must be exemplary, but exemplary, they must speak according to the legitimate aspirations of the people, but the aspirations of the people like this and they say that … How do people believe?!"
In 2019, more than 300 officials and civil servants in HCM City were disciplined by warning, dismissing, resigning because of irresponsibility, loosening management at work, according to statistics from the state-controlled media. Previously, a series of HCM City officials were also proposed to be prosecuted, such as former Vice Chairman Nguyen Huu Tin, former Director of Department of Natural Resources and Environment Dao Anh Kiet, Deputy Chief of Office of the City People's Committee Le Van Thanh, etc.
In early 2020, former Chairman of HCM City Le Hoang Quan was proposed by the Ministry of Public Security of Vietnam for "strict administrative discipline" because, during the period, former Vice President Nguyen Thanh Tai committed a mistake in the land allocation in District 1. Mr. Tai was the person the Ministry of Public Security proposed the Supreme People's Procuracy for prosecution.
Three other officers were prosecuted together with Mr. Tai, including Mr. Dao Anh Kiet, former director of the Department of Natural Resources and Environment; Nguyen Hoai Nam, former party secretary of District 2; Truong Van Ut, former deputy head of Land Management Division.
Mr. De, a resident in HCM City, when talking to Radio Free Asia on November 18, 2020, said his opinion:
"Leadership always sets an example, it is just a slogan, and the problem of implementing it is very difficult. Because there is nothing to bind them to be exemplary, the evidence like the cadres' mistakes not only in Thu Thiem, is very difficult to punish because of the Party's 15 directives, if you want to discipline party members, you must expel them from the party first, then the police could start investigation against them. Therefore, they have nothing to be afraid of being exemplary, to be exemplary or not. If they were really exemplary, they would have handled the Thu Thiem problem smoothly. For example, Mr. Le Thanh Hai, with 15 years in Ho Chi Minh City, has a lot of subordinates, so the city's authorities cannot work against him, that is that example."
According to Mr. De, in general, exemplary is just a simple slogan … he said his desire to the new party secretary Nguyen Van Nen:
"I hope that Party Secretary Nguyen Van Nen should put his efforts to do well, don't promise any more, if you continue to promise, you will break your promise … because the cadres are not exemplary, say they never heard. Thu Thiem land grabbing case is proof."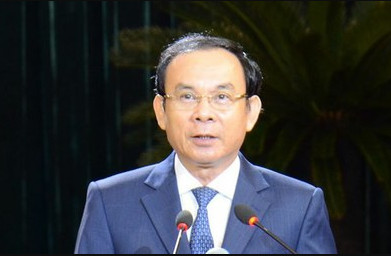 Not only in Ho Chi Minh City, recently, the cases of cadres and party members being disciplined becomes more and more. For example, in the case of Mr. Nguyen Van Son, chairman of Ha Giang province was reprimanded; Mr. Tran Duc Quy, vice chairman of Ha Giang province was warned for wrongdoing in the high school exam in 2018.
Or the former deputy director of the Government office, Mr. Nguyen Huu Vu, was disciplined and Mr. Van Trong Ly was warned for the mistakes in the Thai Nguyen iron and steel project.
The latest is in April 2020, the party's Central Inspection Commission disciplined two Mr. Le Viet Chu, secretary of Quang Ngai province and Mr. Tran Ngoc Cang, deputy secretary for many violations in land management and use, etc.
Attorney Tran Quoc Thuan, a member of the Communist Party of Vietnam with over 50-year membership, the former chief of the Office of Vietnam's highest legislative body National Assembly, when answering Radio Free Asia, said:
"This is often said to 'the upper is not good, the lower is bad too.' This country is spoiled due to many reasons. If the leaders of this country set an example of not being corrupt or doing wrong, then naturally it will stabilize again. Therefore, one of the reasons for wrongdoing is the leaders are corrupt, stealing money from the state budget."
Or there have been many cases where officials use state money and public vehicles with green plates to go to pagodas, temples … The press also reported, but not strictly handled. Public opinion said that if we want to handle it, the State must handle it decisively, even though it is leaders' princelings. Not by that ordinary get hard punishment while state officials or their relatives don't have to be punished strictly according to the law, just apologize, so how can people be trusted?!"
Writer Pham Dinh Trong, a former army colonel who left the party, when talking to Radio Free Asia said:
"Setting an example is only a vicious thing, the most important thing in a nation is the law. Just follow the law, there is no need to set an example, and state officials must follow the law even more. But setting an example is only a matter of an individual's morality. The movement to set an example is just because they do not know what to do in the current depressed situation of the party members, they do a deadlock but can not solve anything.
Associate Professor, Dr. Hoang Dung, a linguist in Saigon, when answering Radio Free Asia's view said that we should not just look from a moral perspective. Because if you look at the ethical perspective, it will be off-topic … ethics, according to you, is the story of each individual, every locality there are good and bad officials, but the number of good ones and wholeheartedly in their work is small. According to Dr. Hoang Dung, with the current social organization in Vietnam, the fate of an official in many cases is determined by the leaders, not by the ordinary people. The ordinary people have no meaning even though they always say 'of the people, by the people, for the people.' He continued:
"The problem here is with institutions. An institution away from the people, a substance essentially decided by the rulers, not by the people, will give birth to a class of officials who do not consider the people anything. That institution also spawned a double life. On the one hand, say very nice words; on the one hand, is to find ways to salvage themselves."
According to Dr. Hoang Dung, as long as the problem in the organizational principles of this institution is not resolved, then everything that sets the example will be frivolous, it does not make sense, so calling is useless because the more they call for setting the example, the deeper they are into falsehood.
Thoibao.de (Translated)
Source: https://www.rfa.org/vietnamese/in_depth/hcmc-party-secretary-again-called-for-exemplary-leaders-11182020102833.html